The show / Pictures / Video / Press
_______
Circus and dance show around and over a tree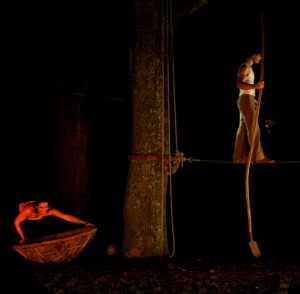 « Meeting under rain of clay, a dialogue of bodies.
Touching, rubbing, confront, face, leave, pass, return, balance, harmonize …
build together.
From the earth where I come,
All look familiar…
But I've seen another earth,
with a special life.
Actual bodies
wandering in the past…
Ancient bodies that live next to me and all the transformations that have lived on earth.
Evolving rises, and as with the land.
Transformation due to work and matter,
a body sometimes animal, sometimes machine leaking into the air to drop a dance.
…… and the thick lines of the fields that climb the tree. »
Duration : 40 mn
Performance for all public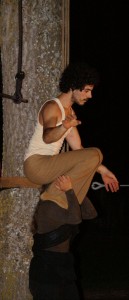 Day or night
Public: 600 maximum
Team
Performers and directors Isadora Branco, Aurélien Chaillou
Design adviser Leonor Dupic
Choreographic adviser Branko Potocan
Music creation Anthony Delestre, Franck Beaumard
Light designer/Régie Adrien Talon
Production Un Pas De Côté
Co-production TFC Chemillé
More informations
Download flyer
Terra – Technical rider
Terra – scenographic installation
Terra – Lighting plan (night performance)