Performance / Pictures / Video / Walking tour(s)
______________
Performance of aerial dance improvisation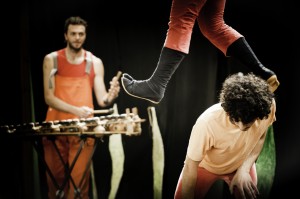 Each representation is a meeting, a unique experience between the space, the artists and the audience.
The trapeze is installed in a public place, a place of life.
The artists do part of the space, improvise, compose instantly the story which arises from the place, its roots, the bodies and the notes.
As an invitation to the passers-by to anchor in this space during certain time to observe, listen to this mix of bodies and sounds.
Performers : Isadora Branco, Aurélien Chaillou
Duration : 20 minutes
Lab Racines
From October 2011, Cie Isaurel has invited the musician Pierre Charrier to be part of the project.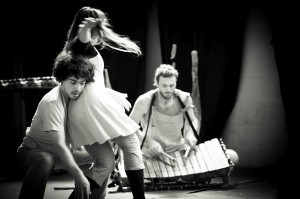 Racine, Root feminine name (Latin radicina):
· The root corresponds to the source, to the base or the origin of an object
· Part by which an organic structure becomes attached to another organ or to the rest of the body.
· Solid link, deep tie in a place, an environment.
· The roots of somebody are what connects him with the past or with his origins.
. Generally underground vascular organ of plants, which fixes them to the ground and which assures their provisioning in water and in mineral salts.
· The root of an equation is the solution of this equation
« La danse fouille avec le corps les racines des corps, leur façon d'exister, de se mouvoir, et déjà de surgir. Elle travaille l'évènement d'être, dans le temps et l'espace, elle travaille le senti, le perçu, l'émouvant, le retenu de cet évènement. Pourtant, il n'y a pas un art de l'être, mais le corps est ce qui en émerge, le corps, gesticulant et criant en silence. Le corps est le point sensible de l'être qui nous arrive comme évènement, d'où qu'il vienne, dedans ou dehors. » extrait de Le corps et sa danse, Daniel Sibony, editions du Seuil