The company
Isaurel, French-Portuguese company, based in France, founded in 2009 by Isadora Branco & Aurélien Chaillou.
These two artists met in France in FAAAC (Formation Alternative et Autogérée aux Arts du Cirque 2006/2008). And after several experiences in collectives such as Cie Branle-bas in France and FIAR – CAR in Portugal (Festival Internacional e Centro de Artes de Rua – Palmela), they create their own company to lead meetings and develop research in circus and dance.
The company works the street as a space for research, experimentation, meetings and presentation. It is through the lives of individual sites, the experiences of people passing by, who work and live in those particular places that initiates the beginning of our research in  circus  and dance, letting themselves be influenced by yesterday's and today's stories, from everyday regular life to the  exceptions.
The work has gradually been oriented to research related to the nature, natural areas, parks and gardens, and questioning our relationship to them and also what is rurality today .
The company aims to produce, disseminate and promote the circus dance in France, Portugal and other countries, through their performances, installations, meetings and educational campaigns raising awareness and playing for different audiences.
Artistic team
— artistic direction —
Isadora Branco (PT)
Dancer/Trapeze artist
Isadora started her training at Chapitô – EPAOE (Lisbon-Pt) from 2000 to 2003. Straight after she continued training in dance at C.E.M (Centro em Movimento) and Forum Danca, having as teachers and mentors amongst others:  Sofia Neuparth, Howard Sonenklar, Kurt Koegel. In acrobatics, João Martins, aerial work Armelle Devigon, Elodie Doñaque and Zoé Maistre.
Isadora worked with various dance and circus companys in Portugal before leaving for France where she continued her training at FAAAC (Formation Alternative et Autogérée aux Arts du Cirque). Isadora is co-founder and member of ' Cie Branle-bas'France and is co-creator of the show 'Many'.  In 2009 she participated in the project 'Circundar' and 'Uma rampa para ti, FIAR-CAR, Portugal'.
Isadora collaborates in occasional project with 'Cie LLE', 'Dans la forêt des Songes', 'Eau de la'.
Performer in Terra and Racines ailantes. Director of Roulé(s)
In 2011 she obtained a university degree in Art, and Expressive Movement and continues his research on the circus dance (creation, education and transmission).
Aurélien Chaillou (FR)
Wire man, dancer
Started his formation in circus and dance by doing FAAAC (2006-2008). Aurélien was introduced to the wire technique by the hands of Marie-Anne Kergoët, and trapeze by Isadora Branco. These two factors have determined the path that he follows today; he is very interested in the balance of the body in motion on lines. His research on the movement and education is strongly influenced by the practice of contact improvisation, and animal movement. He's made various dance workshops with, among others Urs Stauffer, Steve Paxton, Loïc Touzé, Catherine Lessard.
Aurélien performed in different shows, such as 'Many' (Cie Branle-bas), 'Uma rampa para ti' (FIAR), 'Dans la forêt des songes' and 'Eau de là' (Cie LLE), Terra and Racines ailantes (Cie Isaurel) and as director for Roulé(s) (Cie Isaurel).
— invited artists —
Leonor Dupic (PT)
Designer for Terra
Leonor has a BA Honors in art / painting from Faculdade de Belas Artes do Porto, she then continues her training in ceramics at the school La Bisbal, Cooperativa Arvore in O Porto, Museu Nacional Soares dos Reis in O Porto.
Leonor has participated in different ceramic performances in 2009 Vendrell, Leça  do Balio and in different collective exhibitions in O Porto such as : Galeria Serv'artes, Galeria Geraldes Silva and Espaços Artemosferas and was assistant with the ceramist Xohan Viqueira, Valencia, Spain.
Branko Potočan (SI)
Choreographer for Terra
Member of 'Ultima Vez' from 1990 to 1993, directed by Wim Vandekeybus. In 1994, he founded  Cie Fourklor which presents shows in Slovenia and abroad. Choreographer and movement director of several productions of institutional theater. For several years he worked with Theater SMG, where he choreographed several theatrical performances where he is currently the artistic director.
He is also director of the theatrical production of Zavod Vitkar, who works in the field of contemporary dance and circus, that also organizes the international festival of contemporary dance theater 'Red Beats' since 2003.
Site Cie Fourklor: http://www.ljudmila.org/fourklor/
Anthony Delestre (FR)
Musician for Terra and Roulé(s)
Anthony gets interested in music from the age of 6 thought the saxophone. From the age of 14  he then begins to play all the instruments that he finds on his way, due to their sound curiosity  …  He started training himself also on guitar (self taught), on piano, the harmonica, percussion and is interested in the construction of instruments from recovered material. He played with various music groups: Epilogue (Acoustic Pop), Listeria and Brass (Rock Trip Hop) and a saxophone quartet. He is co founder of Fanfare La Banda Bruity.
He's teaching music from 6 years with the Association Un Pas De Côté.
Today, he develops his musical research using sound structures built from objects recovered and reused as sound instruments.
Franck Beaumard (FR)
Sound register and mix for Terra
Begins his training in industrial design before he consecrated to the sound. In 2006, obtains the certificate of professional sound engineer and programmer Midi in ITEMM (Le Mans). Franck then works as a technician / sound control booth for some companies (GPS, Audioscène) associations (les Z'ecléctiques, La 7°vague, Le Barouf, Le champ des arts) and some groups: Chapalo, Baldescal, Slade, D3, and realise some register and mix in Mali (studio Sekou Bah) and in France: Rollin'trip, projet ethernox, Bandabruity, D3, Karzika, Akokan.
Adrien Talon (FR)
light designer for Terra and Roulé(s)
Passionate about the arts, Adrian finishes  his diploma at Métiers d'Arts de Spectacle of RTT option light. After his graduation he then enters the Société Multiscénic régiesseur as light designer and works in different festivals.
Adrian is the light designer and régiesser for different companies: Rubin Steiner Neue Band Live (Tours) Auguri Production, Baldescal (Angers) Yedele Prod Kafileidjo (Nantes), comedia musical Faust, EPCC ThéâtreFoirail (Chemillé).
Pierre Charrier (FR)
Musical research for Racines ailantes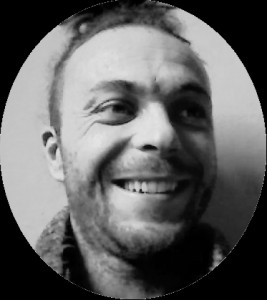 In different travels to Mali with his friend Denis Ferchaud, he learn mandingue percussion (djembé, duns, balaphons). Under the teaching of Stéphane Guyon et with the group KAFI, he improves his control of the mandingue folklore.
He participates to the creation of BALDESCAL, a participative ball of african and cuban musics.
He learns Samba reggae (brasilian percussions) in BAHIAFRO with Miké Delevallez and after, leads BLOCO CHANGO in carnivals.
Michel Canuel (FR)
Music creation for the performance Racines ailantes
He began studying music with his guitar at age 13. Child of digital, he quickly discovers music assisted by computer and the first computer sequencers. At 20, he started his studies in the field of sound recording and studio. His growing interest in the field of digital creation through the democratization of tools such as pure data and Arduíno, lead him to creates a spatial sound module to develop its electronic music creation.
Adèle Beauvineau (FR)
Designer, visual artist
She loves to experiment with image and she is now working in different fields such as music, fashion, culture…
Discover her web site